The 1-Click Excel Timeline Generator
Quickly create professional-looking planning calendars in Excel
Does your work involve presenting and analyzing data on a time series?
For example, presenting financial information
Statistical data
Or drawing up project schedules,
Using a Gantt chart
Are you tired of building timelines manually in Excel?
You know what I mean:
Messing around with cell formatting, styles, borders, colors, text positioning for HOURS, and making 47 changes until your worksheet finally looks presentable?
It's INSANE how much time we spend on such monkey work, given the essential role timelines play in our work and how often we have to create one.
As a Project Manager working for a large corporation, creating timelines was part of my daily work. I spent literally hours on this kind of stuff, partly because I'm a perfectionist and I would NEVER send out an Excel workbook that does not also LOOK NICE!
So, for a long time I just accepted the fact that this tedious process was the only way to build appealing timelines.
But then one day, loaded with work, I said to myself:
"This can't be it. I'm wasting so much time in Excel building timelines. I'm gonna look for a tool that will automaticlly generate timelines for me"
So I looked for suitable tools.
But there weren't a lot of options.
And the tools I found weren't really convincing.
Some were buggy.
Or they didn't provide enough flexibility regarding the timeline layout.
For example, I wanted to show weekdays in short form (Mon, Tue, Wed etc.) because this took less space within the cells and provide a better user experience.
But most tools didn't give me any such options.
Long story short, most Excel tools were not suitable for a professional context.
And then:
I decided to build my own tool for quickly generating timelines in Excel
With Excel as the working environment, I thought the best approach would be to build an Excel based tool using VBA code to handle the timeline generation.
You don't need to install any additional software.
Just launch Excel, run the macro and … voilà! …. your timeline is ready.
It took me a few days to build the tool and ensure it was working the way I wanted.
In particular, I wanted to make the tool flexible so you could churn out timelines in the exact format you needed.
And as we like to work in our own language, the tool also had to populate the dates and weekdays in your local format and your language instead of returning English descriptions only.
Finally, the tool is ready!
You can read more here:
1-Click Excel Timeline Generator
Quickly create professional-looking timelines and calendars in Excel
Daily, Weekly and Monthly Planner Layout
You can generate Excel calendars / planners in daily, weekly and monthly layouts.
Weekly calendars are helpful for managing projects on a high level. Add the tasks and milestones of each week and your team will know exactly what needs to be done in a given week. For professionals like consultants, therapists or managers, the weekly template can be used to keep track of back-to-back appointments or deadlines.
The monthly calendar is useful for long-term planning of events or important deadlines. Examples would be board meeting plans and other corporate calendars such as a financial closing calendar. Another use case could be for setting monthly goals, tracking sales targets, or planning marketing campaigns.
Use the daily layout for detailed, day-to-day tracking of project work and deadlines.
You can choose between a daily, weekly and monthly format!
How the tool can help you:
Step 1: Enter your timeline parameters:
Enter the desired start date and duration, define your working days and the desired output format.
Step 2: Press "Generate timeline" button
Click the green Generate timeline button. Now the tool will automatically generate a complete timeline for you which appears in a new tab.
Step 3: Fine-tune your timeline
Customize the timeline further by adding titles and adjusting formats to suit your presentation style.
You can create daily, weekly and monthly calendars!
Timelines are an essential tool in almost any field, whether it is finance, project management, education, or medicine. Our timeline generation tool will save you LOTS of time no matter what field you are working in!
Here are some common applications:
Project Management: Use timelines like a map showing the key stops (milestones) in a project. They will help your team see what needs to be done and by when. Timelines can also act like a shared calendar for the whole team, showing who needs to do what and by when.
Finance: Use timelines to track budget allocations and financial milestones over specific periods. This aids in forecasting, budgeting, and evaluating financial health. If you manage investments, use timelines to assess investment periods and returns and for long-term financial planning and analysis.
Education and Research: Educators can use timelines for planning lessons and academic calendars. They help in structuring the educational content delivery over a semester or academic year. If you work in research, use timelines for outlining the phases of research projects, including proposal submissions, data collection, analysis, and publication.
Software Development: If you are building software, use timelines as product roadmaps to plan and track the development of new features and updates. In agile development, use them to visualize sprint durations and specific deliverables.
Marketing: If you work in marketing, generate timelines for planning and executing your campaigns. Timelines are great for the visualization of campaign phases, from conceptualization to execution and review.
Timelines are the "Swiss Army Knive" of planning tools. Now you can build your timelines with the click of a button!
What do I need to use the timeline generator?
All you need is Microsoft Excel as a desktop installation (the tool does NOT work with Excel for the Web). The tool works fine on both Windows and Mac environments.
Will dates appear in my country-specific date format?
Yes.
Will weekdays appear in English only?
No. Weekdays will appear in your country's format and language.
Does the tool work on Excel for Mac?
Yes.
Can I use the tool in Google Sheets?
No, it requires Microsoft Excel.
Does the tool use macros?
Yes, the tool is based on VBA macros.
Does the tool support different workweek settings?
Yes. You can choose between the following workweek formats: Monday – Friday, Monday – Saturday, Monday – Sunday, Sunday – Thursday. You can either hide or show non-working days.
I have a question about the tool. How can I reach you?
Send me a message via the contact form.
I am committed to providing you with the best and most useful resources for your projects. If you feel the office relocation checklist is not suitable for your needs, I am happy to return your investment within 30 days after the purchase date. Just send me a note.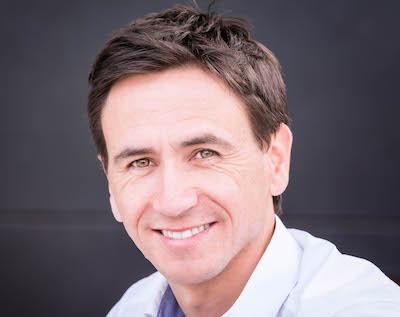 Hi, I'm Adrian Neumeyer, founder and CEO of Tactical Project Manager. I have been working as a Senior IT Project Manager for the past ten years. Today my focus is to help people who manage projects — people like you! — by providing practical tips and time-saving tools. Connect with me on LinkedIn.
Get the 1-Click Excel Timeline Generator
Quickly create professional-looking timelines in Excel
(plus local VAT depending on your location)
Quickly build project timelines using daily, weekly or monthly intervals
Just requires Excel (as a desktop installation)
International support: Timelines are generated based on your local date format and weekday naming
Flexible workweek support (Choose between Mon-Fri, Mon-Sat, Mon-Sun, Sun-Thu workweek)
One-time payment. No ongoing charges
30-day money-back guarantee if you are not happy
Secure payment via Paddle.com, a US-based payment provider
You'll get an email with a download link to access the file
No unwanted marketing emails
Got a question about this product?
Ask your question here!
I usually respond within 24 hours, except on weekends.