Is your company moving into a new office?
The "A-to-Z" Office Relocation Checklist
All the things that former office move coordinators wish they had known to have a smooth, efficient and stress-free move
Hi there,
Are you responsible for an office relocation?
Are you looking for resources to help you with the planning?
Do you want to make sure you've considered everything?
Read on 🙂
What you'll find here is kind of unique and new.
Because here's the thing:
The resources you'll find on the web about moving offices tend to cover only a particular area:
For example, there are relocation checklists covering the topic of cleaning and waste disposal, document archiving, health & safety, legal or the HR aspect of the relocation …
The reason why they only cover only a particular aspect: these resources are created by specialized contractors who manage one aspect of the relocation, so as a result:
These checklists don't cover the entire project from A to Z.
In particular, they don't tell you what you as the moving company should prepare or do – sometimes long in advance – to ensure a smooth transition.
For example:
Communication: Who you need to inform and share the new address wit
Clearing your current premises: You may not want to take all your current equipment and furniture with you, so disposal of unwanted items needs to be planned – long in advance!
Labeling/Developing a good numbering system for your shipment boxes and furniture so that the movers will know where to place the items in the new space
Testing & Checking: During the hectic moving process, people often miss checking the new facility in-depth before fully moving in. You want to ensure all necessary services — power, gas, wifi etc. – are operating properly.
Points like these should be on an office move checklist!
Don't you think so?
So here's what I did:
I interviewed dozens of people who had been part of an office relocation and asked them about their experience
You know, the great thing is:
Almost anybody with a corporate job has been part of an office relocation at some point in their career.
For some, it's just been a move of their department to a new floor or new building.
For others, their entire headquarters was moved because the team outgrew the available space, or maybe the contract wasn't renewed by the owner.
Whatever the reason for the move, these people all have insightful stories to tell about things they'd learned from the experience and what they would do differently if they had to move offices again.
Here's what I asked people:
"What do you remember about your office move? What didn't go well? Do you have any tips for people with an office move coming up?"
Believe me, I got to listen to a ton of stories!
Moving offices apparently is a very emotional endeavor for people.
The interviews proved incredibly helpful and I was able to gather a ton of fantastic insights and precious tips.
Here are some examples: 
My friend Philippe was taking his startup into a new office space. The move went well except for one thing: The team discovered that, on the day of the move, the elevator in the new building was down for maintenance. They had to move all their furniture and boxes up to the 5th floor! "My legs still hurt", Philippe said.
Takeaway: Check if elevators and other facilities are operating on the day of the move.
Or consider this feedback from Brenda:
US-based executive assistant Brenda shared her difficulties purging the office of no longer needed items. She wanted to give some of the old furniture to charities in the neighborhood. But without enough notice period, these charities couldn't take the furniture as soon as Brenda needed. So she had to hire an office removal service to take care of the old furniture, which came at a significant extra cost.
Takeaway: Inspect your furniture and equipment and decide what is no longer needed. Organize the disposal process long in advance.
Want to hear another story?
Assistant Esther coordinated the office relocation for the charity organization she was working for. Two weeks before the scheduled move, as she was roaming the current facilities checking if the clearing activities were making progress, her attention turned to the humming noise of a water cooler, just behind the door of the finance department. "Are you taking care of this guy?" she asked the accounting team. "Oh … great you ask. We haven't thought about that. We probably have to speak to the vendor. They may have to take the machine to the new office?"
Takeaway: If you are using coffee or vending equipment provided on a service contract basis, you need to ask the service provider to manage the move of the equipment to the new space. Moving the equipment on your own could be a violation of the service agreement.
As you can see, I was able to gather some really useful tips.
Ultimately, I took all the input from the former "office movers" …
Put everything into a checklist.
You can read more about the checklist here:
The A-to-Z Office Relocation Checklist
Packed with insights from former "office movers", the checklist helps you accomplish your office move in an efficient and seamless way
This super-detailed checklist gives you all the steps you need to consider to ensure a smooth relocation from an existing office space to new office premises. Whether you're moving your office across town or to a new city, whether you are moving headquarters or just a subsidiary, our checklist is your trusted companion for the relocation process.
The checklist is based on a large survey of former office movers – assistants, managers, CEOs, and other employees — people who have recently been part of an office move and who have kindly shared their experience, and who have contributed lots of valuable tips and what you need to ensure and what pitfalls to avoid.
Please note that the checklist covers the general case of an office relocation. The transfer of warehouse or production facilities is not covered by this checklist.
What the checklist covers:
Initiating the project: Setting up a team, gathering department-specific needs, appoint relocation coordinator …
Planning & preparation: Assessing employee relocation rights, establishing key dates, setting up a budget, reviewing current furniture and equipment, organizing contractor help, identifying necessary changes to online and print content, preparing for updates of legal contracts, creating a floor plan/office layout etc.)
Communicating the move: Website/social media updates, informing clients & vendors and staff, building manager etc.
Pre-move logistics: Office purging and cleaning, conducting health & safety assessment, dismantling of equipement and furniture, packing … etc
Performing the move: Pre-move inspection, kick-off, transfer of office equipment, setup furniture and IT requipment, necessary checks
Post-move logistics: Post-move inspection, return keys to former office, release web content update etc.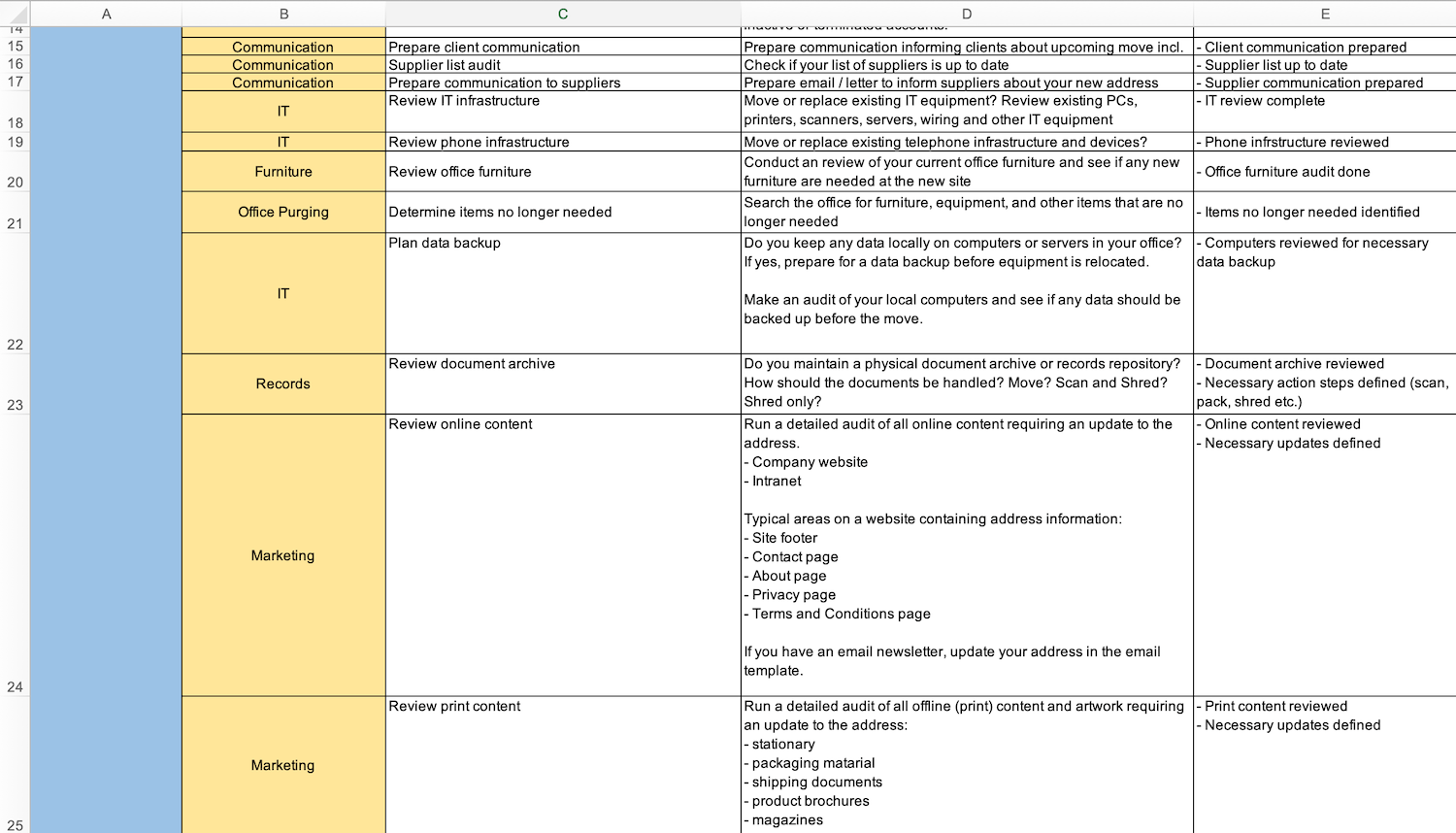 More than 80 specific action steps
Included: Project Timeline Template
Along with the checklist, you'll get an Excel project timeline template where you can easily plan your moving project on a day-by-day interval. Fully customizable! Share the timeline with your team and contractors and everybody will be on the same page.
Frequently Asked Questions
What scenario does the checklist cover?
The checklist covers the general scenario of a company moving its entire office or parts of the office to a new location.
Does the checklist also include any IT steps?
The checklist covers necessary IT work on a high level ("Check wifi connection", "Set up printers and copiers" etc.). As we are covering a general scenario, the checklist does not address special cases like moving a data center. Look at my Data Center Relocation Playbook for data center relocation.
What format is the checklist provided in?
The checklist comes as an Excel workbook.
How will I get access to the checklist?
Once you have made the purchase, you will get an email with a download link.
Is your payment process secure?
Yes, I am using Paddle.com, a US-based payment services provider
I have a question about the checklist. How can I contact you?
Use the contact form below to submit your question.
What if I later discover the checklist does not fit my needs?
No worries. You have a 30-day money-back guarantee. Just contact me within 30 days after the purchase date and I'll give you a refund.
I am committed to providing you with the best and most useful resources for your projects. If you feel the office relocation checklist is not suitable for your needs, I am happy to return your investment within 30 days after the purchase date. Just contact me.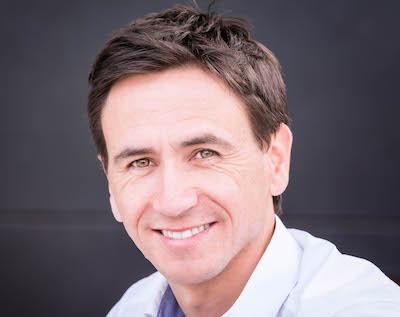 Hi, I'm Adrian Neumeyer, founder and CEO of Tactical Project Manager. I have been working as a Senior IT Project Manager for the past ten years. Today my focus is to help people who manage projects — people like you! — by providing practical tips and time-saving tools. Connect with me on LinkedIn.
Get the A-to-Z Office Relocation Checklist
Built using feedback from former office movers, this office relocation checklist is the most complete resource you can find on the web
One-time payment. No ongoing charges
Covers a full office relocation project including all major topics (planning & preparation, communication, pre-move and post-move logistics, best practices etc)
Built using feedback from dozens of "office movers", people who have recently been part of an office relocation
With project timeline template (fully customizable)
Excel file: You will get an email with a download link
30-day money-back guarantee if you are not happy
Secure payment via FastSpring, a US payment provider
You will get an email with a download link
Contact form for questions and support
Got a question about this product?
Ask your question here!
I usually respond within 24 hours, except on weekends.