Time-saving project templates

Manage projects with THE tools you already know
Welcome to the project templates section! Here you can download the templates I have been using for many years as an IT Project Manager. Hundreds of project leaders have been using them and the feedback has been overwhelmingly positive. Why? The templates are straightforward to use and look professional.
I keep adding more templates here, so come back every once in a while.
Best wishes, Adrian
For questions, email at adrian@tacticalprojectmanager.com
Gantt Scheduler: Your One-Stop-Scheduling Tool in Excel
If you prefer to create your project schedule in Excel instead of using a tool like Microsoft Project, the Gantt Scheduler is the right choice for you. It works great for projects with 1-2 years in duration.
What you can do with the tool:
Automatic scheduling based on a defined project start date
Automatic WBS numbering of tasks (up to 5 levels)
Linking of dependent tasks
Specify durations using working days or calendar days
Consideration of weekends and non-working days
Progress tracking via % Complete
Your tasks will appear as a professionally looking Gantt schedule, as shown in the following screenshot:
30-day money-back guarantee. If you don't like the template, I'm happy to return your investment within 30 days after your purchase.
Multi-Project Tracker for Excel: All project schedules on ONE sheet
The Multi Project Tracker is an Excel template that consolidates the schedules of multiple projects on a single sheet. It uses a common timeline that can be adjusted according to your needs. Designed for department managers, program managers, team leads and project managers.
Project Budget: Plan and actual values in one place!
Here is what Jessica, a project manager from the US, said about the template: "I planned out the budget for a large project in one hour. Normally this would have taken me all day". I think this speaks for itself. The budget template enables you to create complex budgets with little effort, and with its clear structure, you'll always have an accurate picture of how you are performing.
What you can do with the template:
Plan budgets for up to 2 years (the template covers 24 months)
Plan and track costs on a monthly basis
Separate costs into categories (labor, material, travel, other)
Track actual effort and costs
Estimate labor costs using standard rates ($/day)
See the following screenshots to get an impression of the budget template:
View for defining standard rates:
30-day money-back guarantee. If you don't like the template, I'm happy to return your investment within 30 days after your purchase.
Project Schedule (visualization template)
For many projects, it is sufficient to create a simple visual schedule in Excel that can be shared easily with team members and stakeholders. The Schedule Template enables you to "draw" your schedule in Excel, simply by coloring cells. The template uses a weekly timescale, and you can also add holidays, parallel projects and other initiatives that must be considered for the plan. Once ready, share your schedule with your team — either in Excel format or as a PDF.
To-Do-List: Get things DONE!
The to-do list (or action tracker) is the key document for every project manager. This is where you enter any project relevant tasks, define deadlines and track their status. Use the information in follow-ups with team members to ensure your project always stays on track.
Risk Log: It's All About Preparation
The Risk Log is where you evaluate and track any potential risks that you and your team have identified. It is also the place where you define smart actions that should be taken to ensure those identified risks don't turn into a tsunami that will eventually tank your project.
The Risk Log allows you to
Categorize risk by risk category (resource, timing, business and quality risk).
Assign an impact factor and the assumed likelihood
Automatically calculate the overall risk value 
Communicate any concerns and potential risks to your client and stakeholders
Kickoff Slide Deck: Save Hours With This Slide Deck
Do you need to prepare for a project kickoff? My kickoff slide deck for Powerpoint will save you hours of preparation. The deck covers all important aspects of your project, including a project goal statement and project overview, timeline, project organization, roles and responsibilities and organizational topics. They cover a fictitious project. From the sample content, you can get an idea of the kind of information that should be presented at your kickoff. So, you can easily adapt the pages for your project.
This 14-page Powerpoint deck covers these points:
Project background
Project description and goal
Timeline
Project organization
Roles and responsibilities
Organizational topics
Next steps
30-day money-back guarantee. If you don't like the template, I'm happy to return your investment within 30 days after your purchase.
Resource Planner for Team Leaders
If you are responsible for a large team, keeping track of your team members' productivity and available hours is a big challenge. The Resource Planner enables you to assign tasks or projects to your employees, estimate the weekly workload and monitor the total utilization against each team member's capacity. It is fully automated and you don't have to worry about Excel formulas!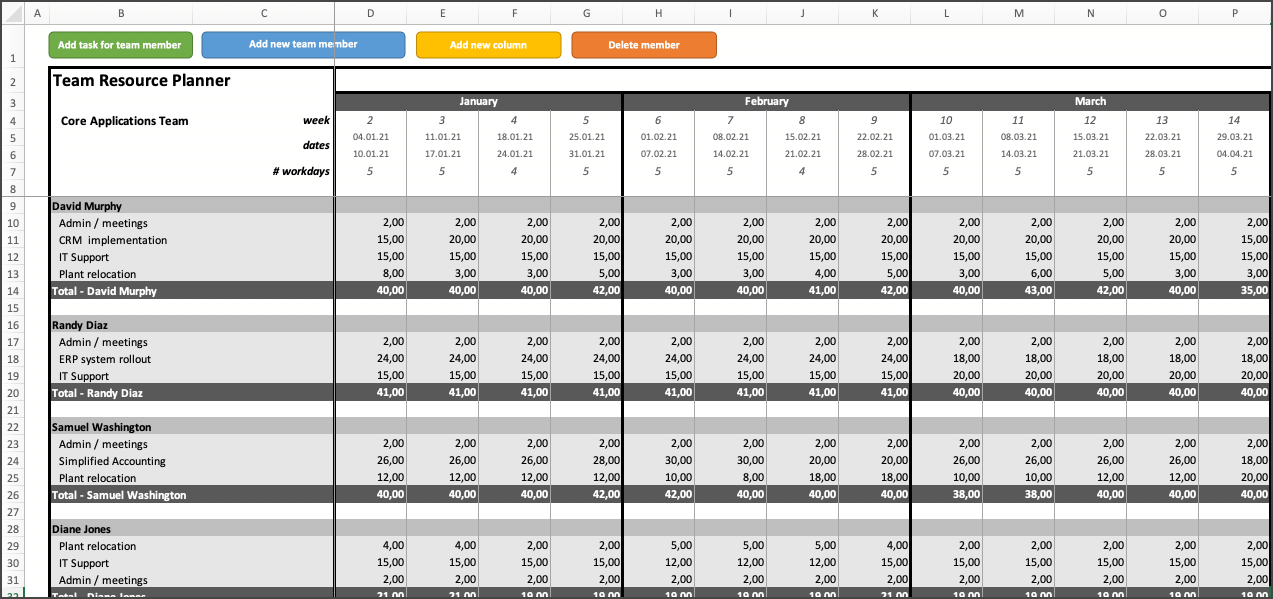 30-day money-back guarantee. If you don't like the template, I'm happy to return your investment within 30 days after your purchase.
A RAID template is used to summarize the risks (R), assumptions (A), issues (I) and dependencies (D) of a project. If you are using the risk register worksheet to track risks, you can skip risks in the RAID template. The RAID template should be maintained at the start of a project and should be updated continuously as the project moves on. Make sure you nominate an owner for each risk, assumption, issue or dependency.
Lessons Learned Template (Powerpoint)
This is the template I use in lessons learned workshops. I generally have the team work in small groups of 3-5 people to brainstorm lessons learned – what went well? What didn't go well? What else can be improved? Then one of the team members will present the results to the entire audience.
"A responsibility assignment matrix (RACI matrix) describes the participation by various roles in completing tasks or deliverables for a project [..]. RACI is an acronym derived from the four key responsibilities most typically used: responsible, accountable, consulted, and informed. It is used for clarifying and defining roles and responsibilities in cross-functional or departmental projects …" (source: Wikipedia)
Project Communication Plan
Regular communication is the biggest success factor in projects. Through communication, you can convey expectations, become aware of obstacles and solve issues together with your team. Communication also ensures that important stakeholders such as executives are kept in the loop and are aware of the project status.
A communication plan should be created at the start of every project. The plan is a formal method for defining the various channels of communication in the project, including as status meetings with the team and other stakeholders as well as regular email updates.
A careful analysis of who you might have to involve in your project is crucial for project success. Some of the stakeholders may be obvious to you because you have worked with them before. But there may be more groups you need to include, such as legal, HR or external stakeholders such as government authorities. Use the stakeholder matrix for tracking stakeholders and defining an engagement strategy.
Any changes to the originally approve project scope should be tracked in a separate sheet. This is what the Change Request Tracker is for. Changes usually require extra budget to be implemented, and the estimated cost should be entered alongside with the new request.
Save by choosing a template package!
Only need specific templates?
Let me know what you need and I will make you an offer.
30-day money-back guarantee. If you feel the templates are not right for you, I will return back your investment.
Secure payment via FastSpring.com
The project playbooks provide you with the detailed steps for various common project types. They were developed by experienced Project Managers in the specific field.